Life Style
Crafting through COVID: Citrus residents keep up with active artistry | Lifestyle
People of all ages enjoy creating crafts — and that has continued even during the pandemic, but in smaller groups or from their homes.
At St. Benedict Catholic Church in Crystal River, women have been designing colorful homemade rosaries that are sent to Africa and other places where those wishing to have a rosary can finally have one.
Jean Doyle heads up the rosary creations for the Council of Catholic Women, CCW, at St. Benedict Catholic Church and has been doing this for many years.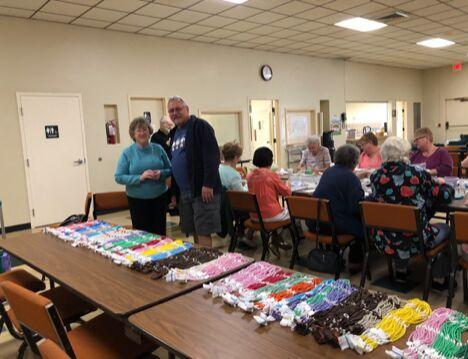 She began making rosaries 20 years ago in another county where she lived. After moving to Citrus County, she asked Father Ryszard Stradomski if she and another woman could make rosaries and send them to people in need who didn't have access to them. He was wholeheartedly for the idea.
Later, she found that the place where she ordered the beads, Our Lady's Rosary Makers, would also ship them to Africa, India, to priests and monks and also to the military. So, she didn't have to pay the large amount for shipping anymore.
She later put a notice in the church bulletin asking for volunteers to meet at church Hall at the church from 10 a.m. to noon to help craft.
"We had 14 volunteers, but two moved away, so now we are down to 12," said Doyle.
"I just sent 460 rosaries yesterday and for this year, which ends in May 2021, we've sent a total of 6,000 rosaries so far," she said.
Dee Reynolds is one of those members who enjoys making rosaries for those in need. She's been making them all year and enjoys creating them as" a way of giving back."
"It is a neat thing to do and I get a lot of gratification in helping someone," said Reynolds. Since COVID began she says, we started making them at home instead of at the church hall.
They get their supplies from Doyle and deliver the rosaries to her at her driveway.
Members of the CCW organization and individuals donate money to purchase the supplies.
Rosaries are made with various hues of colorful beads. But, for the military, the beads are beige and brown, while all black beads go to the priests and monks.
"Father Ryszard Stradomski was very instrumental in getting this group started with making rosaries along with Jane Doyle," said Reynolds.
…
Betty's Creative Studio in Lecanto stays busy with various papercrafts, card making, mixed media and art journaling.
The studio also offers various classes where customers still wear masks as they create.
The shop is owned by Betty Sarachik and she carries all kinds of crafting supplies, stamps, embellishment, card stock, inks, markers and much more.
"My business has really picked up and I am doing a lot of classes," Sarachik said.
Her shop stays busy and her assortment of classes including mixed media and regular card making class that fill up quickly as "I provide a service that's been missing in Citrus County."
She carries many name brand stamps and dies for paper crafting from the U.S. and around the world.
Betty's Creative Studio is on Facebook and can be reached at 352-513-4366. There's always new merchandise to choose from.
"Come visit the shop which is open Wednesday through Saturday from
10 a.m. to 5 p.m. or sign up for a class to meet other crafters, but wear a mask for classes," she said.
…
All the county libraries have offered different crafting types of make and take items, but one must pre-register as classes are limited in numbers due to social distances during the pandemic.
For example, the Coastal Region Library still hosts limited free classes for both children and adults with social distancing and patrons are wearing masks.
Classes vary from sewing projects taught by Colette McDonald, to monthly student art taught by Debbie Robitaille, to monthly card making class with Arlene Biddulph and adult creative classes with Alexus Medina.
For the sewing classes, "the sewing machines are shared with each of our county libraries and are well cleaned after each person uses them," said Colette McDonald.
Each class does a make and take. Aprons, tablet covers, pillowcases and more have been created during these classes.
Debbie Robitaille, youth librarian at Coastal Region Library, has children of all ages creating "landscaped paper leaves, paper flowers covering tootsie roll pops," she said.
"It's a fun monthly class for them and some adults have also participated," Robitaille said. "This is a different and creative way to serve our patrons."
Arlene Biddulph has a monthly, "make a greeting card class" at the library. Adults create a different card each month in this make and take free program.
Holiday cards are usually the theme the month before the holiday.
"All supplies are all provided by our Friends of the Library," said Biddulph.
Alexus Medina teaches an "adults create class" monthly where participants make a variety of fun and creative items. In these classes, they make different items each month, such as "a scarecrow magnet, a beach bottle, a yarn bird, and others," she said.
Source link