Politics
Fact-checking the Biden administration's sliding scale on vaccines and school reopening goals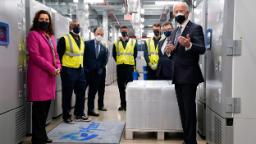 On the plan for both vaccines and reopening schools, President Joe Biden has said one thing and the voice of his administration, White House press secretary Jen Psaki, has sometimes said another, setting the bar so that the administration can easily exceed it.
As part of their "100 days" branding, the Biden administration staked out the target of reopening most schools in his first 100 days.
"It should be a national priority to get our kids back into school and keep them in school," Biden said on December 8, announcing the goal of getting "the majority of our schools…open by the end of my first 100 days."
The goal was then changed to include only K-8, and "re-opening" was re-defined by Psaki as "teaching at least one day a week" in-person. A week later, Biden attempted to correct the record at a CNN town hall, causing confusion over what the administration is actually working towards.
Reopening as Psaki defined it has already been accomplished in the US. According to multiple estimates, the majority of schools are already meeting in-person at least once a week.
When pressed about his administration's stance on reopening during a February 16 CNN town hall a week after Psaki's reframing, Biden clarified that for K-8 students "the goal will be five days a week" of in-person instruction or close to that by the end of his first 100 days.
He said it's "not true" that reopening would entail only one day a week in person, calling Psaki's statements on reopening a "mistake in the communication."
Vaccines
Mistakes in communication have caused trouble for the Biden administration on more than one front.
A day after Biden raised the 1.5 million aspiration, Psaki clarified that this was not a "new goal" for the administration, making it clear they planned to measure themselves against the initial benchmark.
"The President didn't actually say, 'the new goal is.' The President said, 'I hope we can do even more than that,' and that is certainly, of course, his hope. He is continuing to push our team to get as many Americans vaccinated as quickly as possible," Psaki said.
Regarding the Biden administration's vaccination goal, CNN data analyst Harry Enten noted that "a look at the statistics reveal that it may very well be too modest, but it's likely good politics."
Source link