Life Style
Lack of insurance creates inaccessibility among students | Lifestyle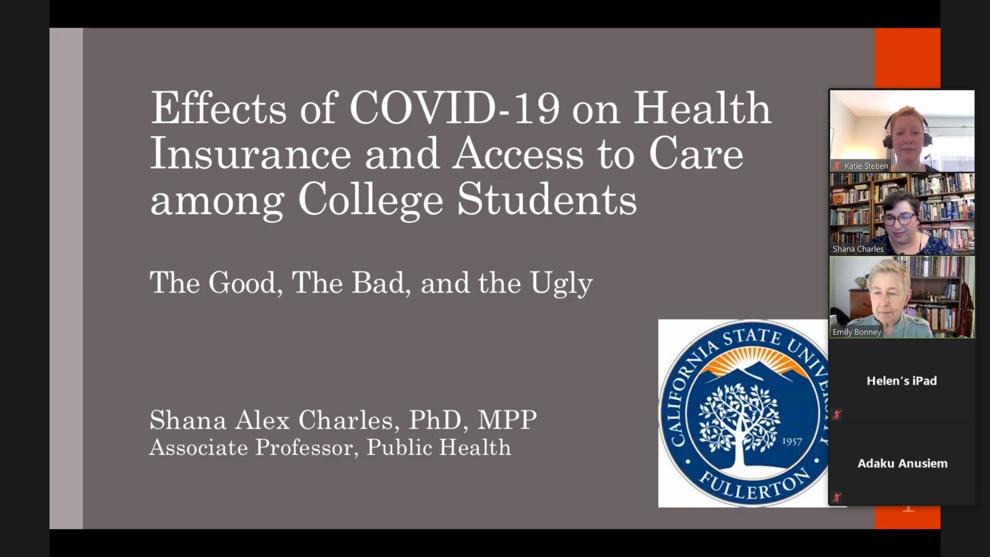 Studies find that low-income and international students were among those who were left without immediate health care access when Cal State Fullerton's Student Wellness Center was closed due to COVID-19. 
Shana Charles, assistant professor in the department of public health discussed her research findings on students and access to healthcare within the CSUs at a virtual lecture hosted by Pollak Library on April 6. 
Charles, who has a doctorate in health services, said that through a research study on tobacco she conducted a few years ago with Cal State Fullerton students, she found that students didn't know anything about health insurance and access to care. Through extensive research, Charles said that people working in student resources at CSUF didn't know how many students were insured or uninsured. 
"I found in my health policy class, students would come up to me and ask about how they could sign up for insurance. So obviously, there were some uninsured students," Charles said.
Various studies have found that health insurance is a necessary component to receiving access to health care, but there is still an extra step, according to Charles. 
Additionally, the CSU system has no comprehensive health insurance program, though international students at Cal State Fullerton can access health insurance, according to Charles. 
In fall 2019 Charles developed the CSU's Study of Health Insurance.  She went to classes and spoke to professors directly to have their students fill out written surveys, but when COVID-19 reached its peak, Charles changed her approach to online research.
Charles used the questionnaire to determine the number of uninsured students, along with finding out who uses the student wellness center. 
"I just want to know what was going on with that in terms of having that as the main source of care, especially now that most students are not allowed to come to campus", Charles said. 
From the response rate with a final sample size of 662 students, only 8% reported not having health insurance. 
The results also showed that 45% of students reported having job-based coverage either their own or from a parent. Under the Affordable Care Act, a child is covered under their parents' insurance until they reach the age of 26. 
"Obamacare did its job. Honestly, as a person that worked to help get the (Affordable Care Act) passed and enacted and has been studying in the past, now, 11 years. These findings are incredibly gratifying and really quite remarkable", Charles said. 
When it came to students accessing the wellness center, Charles' study found that over 20% of uninsured students and students with Covered CA insurance depended on the resource center as their usual source of care. It also found that about 18% of students fall below the household income of $25,000. 
"Lower income students have double the rate of using student wellness center compared to higher income students. So that means if you jeopardize access to the wellness center, you put them at risk", Charles said. 
International students were shown to have a much higher rate of using the student wellness center with 45% of international students and 40% of non-US citizens. Charles' study also found that 55% of uninsured students reported delaying needed health care after March 2020. 
"It's really an important source of healthcare for our students,"Charles said. 
With this data Charles said she looks forward to potentially making things better for students.  
"We as administrators, as faculty, as leaders, people who create this village of support, need to have the information to know where the needs are so that we can then, you know, help support those needs," Charles said. 
The next logical step would be to conduct this same study every two years, Charles said. She would expect to see differences in 2022 by hopefully seeing higher health insurance rates or the amount of uninsured students getting as low as 1%. 
Charles ended her presentation by hoping the study has a positive impact. 
"I hope that you'll kind of incorporate this into future thinking and hopefully we can do more to help our students in a broad, holistic way," Charles said. 
Source link